Share this post through social media!
Ezra Miller appeared at the London premiere of Fantastic Beasts: The Crimes of Grindelwald dressed as Harry Potter's owl Hedwig.
After donning a Darth Vader/Dalek/"sassy sleeping bag" outfit at Fantastic Beasts 2's premiere in Paris, Ezra turned up in London's Leicester Square in a white feathery number.
The actor, who plays Credence Barebone in the film, was photographed at Cineworld Leicester Square yesterday (November 13) dressed as the bird.
He also had the spell 'Avada Kedavra' written in ink on his hands. Also known as 'The Killing Curse', the spell is one of the three 'Unforgivable Curses'. When cast successfully, it causes instant death for the victim.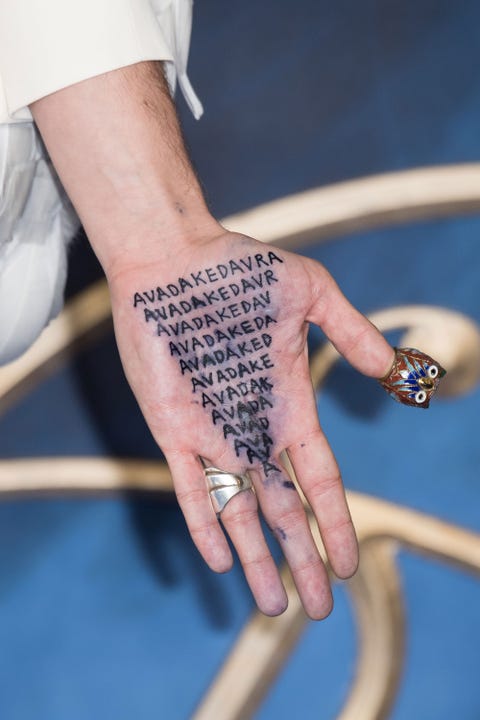 Related: Fantastic Beasts 2 – Johnny Depp, Jude Law, JK Rowling and more walk the red carpet
Miller was joined at the London premiere by author JK Rowling, and co-stars Jude Law, Zoë Kravitz, Callum Turner, Katherine Waterston, Dan Fogler, Claudia Kim, Eddie Redmayne and William Nadylam.
Last month, Ezra assured fans that the portrayal of Albus Dumbledore's sexuality in the upcoming film is very "explicit".
Director David Yates initially said that Dumbledore's relationship with Gellert Grindelwald will be implicit, before backtracking somewhat by saying it will be "clear in what you see".
owever, Miller told Total Film: "It's a funny idea to me that every form of representation has to look the same.
"For me, personally, I find Dumbledore's queerness extremely explicit in this film. I mean, all around."
Fantastic Beasts: The Crimes of Grindelwald will be released in UK and US cinemas on November 16, 2018.
Share this post through social media!